---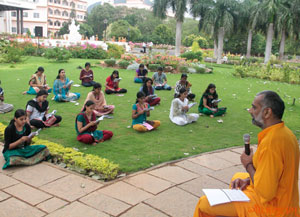 Bhagavad Gita
Br. Dhyanamrita gave Bhagavad Gita class daily. The theme of the camp was 'Love Everything' and the chapter taken was 12 – Bhakti yoga.
Yoga, Meditation, Puja
Energizing yoga & meditation sessions made sure that the body and mind aligned perfectly to the Ma Om rhythm, and puja & worship purified the mind.
Workshops
Workshops to create awareness, life skills and professional skills: From Pujas to Photography, Cooking to Critical management.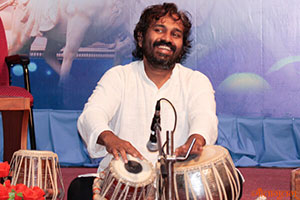 My Life, My Passion
Each day, these dignitaries the field of science, arts, literature, academics, sports, social work & culture shared their life with children.
---
Gitamritam 2013 Yuva camp reports
Inauguration of Gitamritam 2013 YUVA

With the blessing of Amma, the first-ever camp for the youth, to learn Bhagavad Gita was conducted from 1st June to 8th June at Amrita University Campus, Coimbatore.

My Life, My Passion: Love for Dance -Sudha Chandran
Rhythm of Tabla with Love: Workshop by Muthu Kumar
My Life, My Passion: Love for Law & Order -Sundari Nanda IPS
My Life My Passion: Love for Neurons – Dr Shyam Diwakar
Assessing one's strengths and weaknesses: Psychology Workshop
Love for the hearts: Dr R Krishna Kumar
Shraddha: Building Awareness

Shraddha workshopShankar Kumaran conducted the Shraddha workshop on 2- 4 June 2013. He introduced the Panchakoshas, the five layers of human existence to the campers. His sessions…

Read more

: Shraddha: Building Awareness

Shradda: Connectivity through Innocence and Awareness
Dance with Love: Workshop on Kathakali and Bharatanatyam
Magic by Samala Venu

Samala Venu presented magic for the campers. He shared some secrets with them. The blindfold item was an outstanding performance. ==== FeedbackEven though no one sticks to…

Read more

: Magic by Samala Venu

Bring the change in society: Pravin Patkar
Workshop: Evolve from lust to Love
Bhajan: Singing with Love

Everyday evening we had an energetic bhajan session. ==== Feedbacks: The art of music is great and enjoying is another art.– Aswathi TS I enjoyed singing bhajans…

Read more

: Bhajan: Singing with Love

Photography: shoot what you Love
Love for Compost: My Life, My Passion – Peter Ash
Swimming with Love

Every day we had swimming classes in the Olympic standard swimming pool at Amrita University. The children were taught to swim through life with Love and with…

Read more

: Swimming with Love

Cook Aloo paratha with love

FeedbackWhen food is cooked with love then the senses ceases its action only heart responds.– Aswathi TS Well I had a good time making paratha and tea.…

Read more

: Cook Aloo paratha with love

Yoganidra: Sleep with awareness

Yoga Nidra session by Brahmachari Mukesh Kumar was there every day. Campers were made to sleep/relax consciously for 30 minutes. With simple instructions in the background of…

Read more

: Yoganidra: Sleep with awareness

Meditation with Love

Every day we had meditation sessions. Guided meditation classes were conducted at indoor and outdoor sessions. ==== FeedbackThese session made my mind relaxed and also helped me go inside.–…

Read more

: Meditation with Love

My Life My Passion: In the footsteps of Sri Ram – Dr Ram Avatar Sharma
Yoga for mind and body, awareness is the key
Bhagavad Gita in traditional style
Love for Traditional Medicine
Bhagavad Gita for a successful life
what changes this camp brought in you?
Reflections of Love

Reflections: a session where all expressed their thoughts, shared their talents sang and laughed loudly. FeedbackThis section was actually interesting as we could get answers for the…

Read more

: Reflections of Love