Reflections: a session where all expressed their thoughts, shared their talents sang and laughed loudly.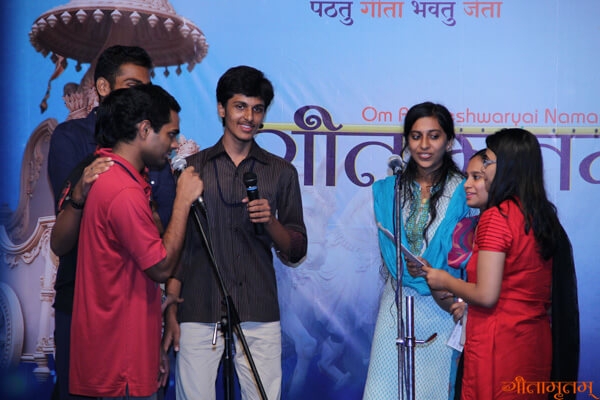 Feedback
This section was actually interesting as we could get answers for the questions we might have not thought of.
– Aswathi TS
It was helpful for us in recollecting and memorizing what we learnt that day.
– Pranav S
The most interesting part where we could relax and recall what we learned that day.
– Shruti Sreevalsan
Each day reflection was very nice. Vasudev's attack on the mike, song composition, everything was superb. We are happy that songs are going to reach to Amma's ears on the behalf of our Gitamritam team.
– Amrita Sindhu M
It is good to work as a team and I learnt how to do that.
– Thiru Ramakrishnan T
It took my fear out and it pulled me up, It also increased my knowledge. As a family they helped me a lot, thank you.
– Prabu Vignesh S
As the name suggests it reflects what we have understood and adopted in our life.
– Vasudevan N
Reflections helped me to break the walls and helped me to correct myself and analyze things. It brought out a little bit of creativity in me.
– Jayadev HR
Reflections sections were so good as it made us say what we learnt the whole day. It was nice to share our experience and also hear others' too.
– Priyadharshini J
The best part of the camp. This was where teamwork was certainly put to test. I learnt a lot of things when others reflected on their thoughts.
– Daamini Visaalaakshi
I learnt to speak freely on stage and understood how much I could grasp from the teaching.
– Neeraja Valsan
Threw light on the concept that we learned from the sessions during the whole day. Also helped to know about different peoples views and their understanding of the sessions.
– Prarthana Shedge
Really was happy about having it, learnt a lot from my friends.
– Arun Prasath B
Reflection helped all of us to share our opinion and thoughts.
– Ruxana VP
It made us think more.
– Saranya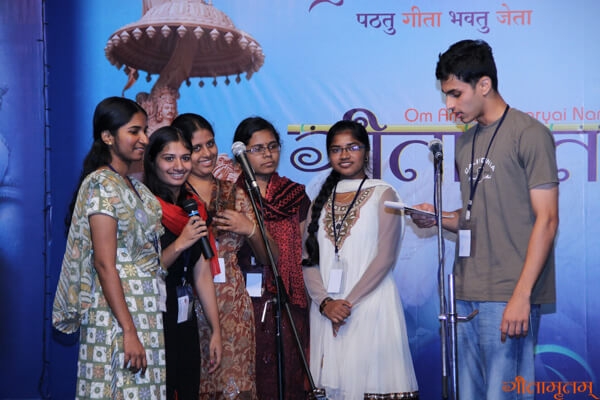 Different people, different ideas, I got to know my friends a lot better. Loved it.
– Geethanjali VS
It gave us opportunities to know ourselves at first, to overcome our limitations such as stage fear, etc. We sang and we were a team. We came to know about teamwork and how to work as a team. It was a wonderful experience. It reflected what we understood in the sessions.
– Akhila A
Every reflection session was different. Everyone shared their opinions frankly, from that also I learnt many things.
– Aarathy ER
Though a bit afraid due to stage fear, it helped a lot to exchange ideas amongst ourselves, and to share our own perceptions with others. The team working sessions were awesome. It was only because of this session, I got an opportunity to write the whole feedback as lyrics and compose it. And no words to say about the recording sessions.
– Aswathi Krishna RL
My stage fear has gone because of this section. Got more knowledge while discussing. Liked it a lot.
– Silpasree SJ
This particular session was very special. Because it gave us some time to ponder upon the lessons which we learned throughout the day and a platform to share it with the others. It gave us a chance to relate Gita with our own life. In short, it was very effective.
– Anjali Anil
Reflection sessions made us think of what we've learned and given us the ideas of what we missed out too. Many of us overcame stage fear with this session and this was worthwhile too.
– Arjun CB
This session was good to understand how much we understood that day. When others asked questions which I never thought of, it helped me know a lot of new things.
– Nishanth Bhat K
It was helpful because it helps us to think in a different way when I hear someones' idea.
– Koushik KKS
How you see the world the world sees you the same.
– Sathyamoorthy A
– Ram Prasath VR
It helped to organize our thoughts and I came to know about what others learned, and from that i learned.
Had a goal already but haven't started working for it, because I didn't have confidence. Now already started working for it with belief in me.
– Prashanth S
It was fun and I rediscovered myself that I could speak on the stage. I really thank you guys for giving this kind of opportunity to me.
– Divyaprasaath S
A very unique component of the camp, which I think should be a part of the schooling and college curriculum as well. A platform where we faced our stage fear and also where we thought and recapped the entire day, as a team.
– Hrishikesh Sivanandan
This is the platform where we can express our views and where we can come to know others' thoughts, so it was a nice experience.
– Balakrishnaveni A
I learned that I should be happy, whatever I face and that God is my best friend who will guide me to truth.
– Gayathri PS
Greatest task of the day which was made very simple and nothing was imposed on us. We were asked to think for ourselves and analyze for ourselves. Questions asked to Swamiji were all answered based on simple daily life examples, which made it so easy for us to correlate and realize for ourselves.
– Medhini Menon
It helped us to know what we learned each day and also helped us to clarify our doubts.
– Parvathy Venugopal