Hari OM! Namah Shivaya. Om Namo Narayanaya!
It is common for us to celebrate birthdays as our special day. Our friends and family come together and shower us with attention and love.
Taking the spirit of this concept forward, let us create a difference by celebrating the birthday of a book – Bhagavad Gita – from now on. Bhagavad Gita, which was revealed to Arjuna by Sri Krishna Himself in the battlefield of Kurukshetra (in present-day Haryana state, 200 km west of New Delhi) on the Shukla Paksha Ekadashi, the 11th day of the waxing moon of Margashirsha month of the Hindu calendar.
This conversation was heard by Sanjaya, who had been blessed by Veda Vyasa, with the power to remotely view (Jnana Chakshu) the events taking place on the battlefield as it happened. Sanjaya narrated this conversation to the blind King Dhritarashtra on the 10th day of the Mahabharata war which is when the world knew about it.
This year's (2021) Gita Jayanthi falls on the 14th of December and she turns 5158 years!!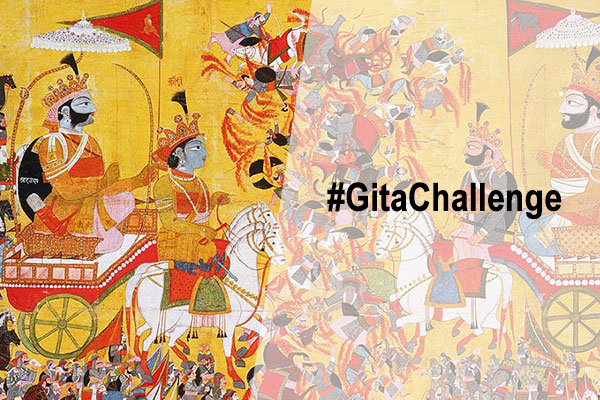 #GitaChallenge
Let us all come together and spread the awareness of 'Gita for Life' by being a part of '#GitaChallenge'. Participate in this with a spirit of spreading happiness beyond the boundaries and widening the knowledge about Bhagavad Gita.
How to participate in #GitaChallenge?
Participation in this challenge is free and open to all; young kids to elders all across the globe are welcome.
Challenge Type1. Pick up any one sloka of your liking from the 700 slokas across 18 chapters of Gita. Chant the sloka properly and say its meaning.
Challenge Type2. Along with the chanting of the sloka and its meaning, if you can share your experience of how that particular sloka has helped/ guided/ transformed you in your life, by narrating the actual situation or problem. It should not be more than 3 minutes.
Challenge Type3. Many people have been practising Gita in their lives. They may not have social media accounts. But You can request them to chant and share their experience. Record with their workplace background & upload them with #GitaChallenge hashtag. You may be surprised to find such people very near to you with Gita wisdom (such as paan-wala, cycle-wala, tea shops vendors, or maybe your grandmother or grandfather).
Challenge Type4. If you would like to create any artwork/meme/cartoon/posters/dance related to Gita, you may post it with #GitaChallenge. You may also post Gita sloka with its meaning and how it has made an impact on your life.
How to Challenge? Any of the above 4 types of challenges can be accepted by uploading your content in Video/picture format by posting it on social media –like Facebook, Twitter, Instagram, YouTube etc. – with the hashtag #GitaChallenge.
You can tag your friends and ask them to take up the challenge.
They can be of any age, from any country and in any language.
You may also ask your neighbouring Ashram /organisations/school/ college authorities, culture departments etc. and request them to help take up the challenge.
Why #GitaChallenge?
The intention behind this challenge is to bring out the relevance of Bhagavad Gita in our daily life where we can connect the slokas to specific instances in our personal, professional or social life. On this special day of Gita Jayanthi let us remember and cherish this great scripture containing the secret solutions to the ultimate goal of our lives – Happiness. Let us appreciate the beauty of this scripture for being beyond time and space; one can embrace it. Gita has transformed many lives over the ages. Let the ones who were transformed, share with the world, how Gita can transform anyone.
When should I start?
You can take up the #GitaChallenge right away and prepare the videos and post it on any social media with hashtag #GitaChallenge. Retweet others posts or share again their submissions. Let us not miss this opportunity in challenging people who love, learn and live Gita in their day-to-day life.
Hari Om Tat Sat.
Watch some interesting videos from our students.