The Director and CSO of Arya Vaidhya Pharmacy Research Foundation, Coimbatore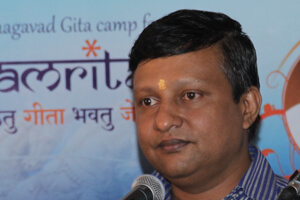 Current Positions:
Managing Editor, Ancient Science of Life, Quarterly Research Journal on Ayurveda, The Ayurvedic Trust, Coimbatore.
Editor in Chief, ASL – Musculoskeletal Diseases, The Ayurvedic Trust, Coimbatore Trustee, The Ayurvedic Trust, Coimbatore.
Chairman, Sub Committee for Clinical Documentation, Sam Pitroda's "Ayurveda Action Plan for Kerala"
Publications:
He has published 18 papers and 4 books, written chapters in 13 books. He has presented 26 papers at international conferences, 106 papers at national conferences and has attended 18 meetings as a resource person on Ayurveda.
Research Projects:
Principal Investigator – Indo-Japan Collaborative Program for Archiving and Documenting Ayurvedic Medicine (PADAM), 2000 – 2008
Project Principal Investigator – National Institutes of Health, 'Ayurvedic Center for Collaborative Research', 2003 – 2007
Principal Investigator – "Development of processes and herbal formulation based on virgin coconut oil" 2009-2010
Principal Investigator – Center of Excellence Grant for Clinical Research in Rheumatology, Dept. of AYUSH, Ministry of Health and Family Welfare – 2010 -2015
Principal Investigator – DHARA – Online Indexing Service for Research Articles Published on Ayurveda, 2010-2011
Principal Investigator – RUDRA – Clinical Practice Outcomes Research promoted by Dept. of AYUSH
Principal Investigator – English translation with critical notes of Pathyapathya, a 16th-century text on Ayurvedic Dietetics, Indian National Science Academy,
Academics:
1991 – BAMS (Bachelor of Ayurvedic Medicine and Surgery) from Ayurveda College Coimbatore
2001 – MD (Ay) in Dravyaguna (Ayurvedic Clinical Pharmacology) from ALNRM Ayurvedic Medical College Koppa.
Awards:
Co-Author of paper of study on Ayurveda in Rheumatoid Arthritis that was selected for "Excellence in Integrative Medicine Research Award" by European Society of Integrative Medicine, 21 September 2012.
International Media:
1. Interview, BBC Radio 4, London under the theme "Herbs, Pills & Potions", broadcast and webcast by BBC Radio in December 2004.
2.Interview, PBS, USA, Frontline World Feature on "India: A Second Opinion", telecast in the United States on 4 November 2007.
Gitamritam speaker in the year 2013.