Br. Dhyanamrita Chaitanya gave the class on Bhagavad Gita 12th Chapter – Bhakti Yoga.
What is love? What is devotion? Who is a devotee? What he/she will be like? – all were discussed in details. 'Who is a devotee in the eyes of the Lord' was really an eye-opener for many. His simple and lucid style with jokes, anecdotes and real-life examples made everyone understand the essence of Gita.
This classes helped many to understand the necessity to learn Gita and the need to imbibe its values for a happy life.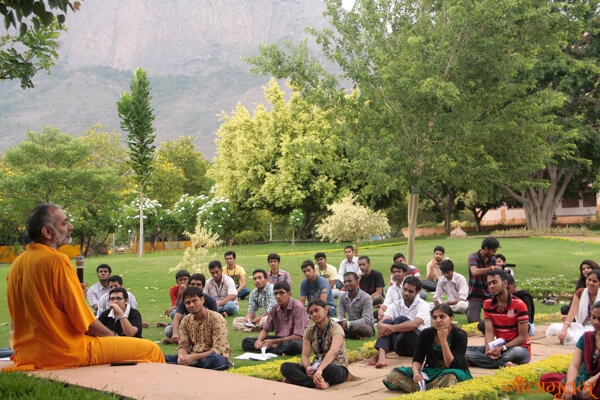 ====
Feedback
I never expected Bhagavad Gita classes to be so creative and enjoyable. I felt each and every minute idea of Gita to be a gem, which is priceless.
– Jayadev HR
I found the love what I missed for a long time and I got answers to the aim for what am living in this world and why I was not able to finish anything. And now I know who am I. And my ultimate aim is to be happy, so I will be happy. Thank you, Swamiji.
– Prabu Vignesh S
I am excited not because I am leaving the camp. But because after this we are gonna start a new life! The actual application of Gita's concepts starts. It taught me to live every moment to the fullest and that too with a smile.
– Prarthana Shedge
Really an eye-opener. I feel like being Krishna. I think now I know the meaning of love and I have started to love everything.
– Saranya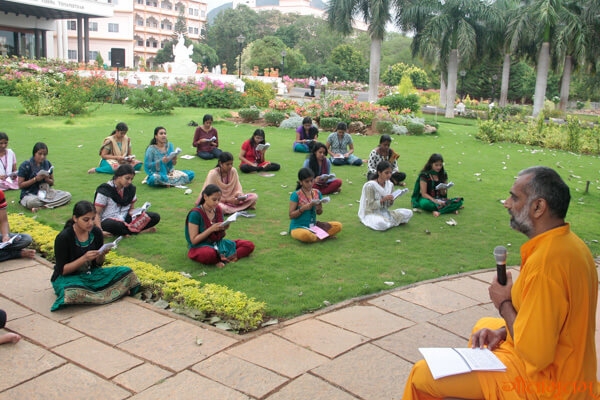 I never expected a Gita class can be like this. From these classes I realized myself. I feel so happy after attending this class. I never thought that Gita can be taught in such an interesting and practical way. Before attending this class I was not knowing my goals or purpose for what I am living. Now I have fixed goals and purpose to be happy always.
– Aarathy ER
The part of the camp that has been the most worthy of being in the camp, has to lead us to introspect a lot into ourselves, really worth. It's a lifetime opportunity to get ourselves into the right track. Swamiji thank you!!
– Medhini Menon
The classes were very good and I cleared my doubts. The examples given were understandable and easy to digest.
– Aswathi TS
It was really very interesting and I have learnt how to live life. It was very helpful to know what was the purpose of our life. Truly it touched my heart and will say that these days, at the end of the day I realized that I was happy and completely occupied.
– Pranav S
In Bhagavad Gita classes I had understood what 'I am' is not what 'I am' but it is a changeless substratum called Iswaran, and that in this world everything is changing.
– Amrita Sindhu M
Good experience. Learnt a lot about Gita and the lessons given by Krishna to Arjuna. I learnt many things. Most important lessons are as follows:
1. everything changes except the changeless,
2. practice again and again to attain perfection,
3. happiness is what makes one's life complete and put a smile to your face,
4. I must be the master of my senses and not let the senses be my master.
– Vasudevan N
From these Gita classes, we learnt how to lead our life happily, with satisfaction.
– Mopuri Saitheja
I like this class more because it teaches us how to be and the way life should be.
– Miryala Akhil Bharadwaj Maharaj
It was so good and informative, taught me how to lead life happily.
– Priyadharshini J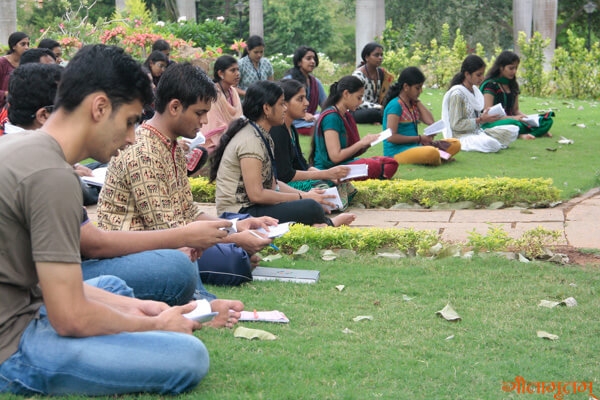 It was taught in our level, very simple and appropriate. This knowledge was very necessary for me at this point in time in my life. I realized what were the important things in life. Thank you so much Dhyanamrita Swamiji for making it so simple.
– Neeraja Valsan
I thought it would be boring but after attending I learnt how to live the life.
– Arun Prasath B
I learned lot of things from Bhagavad Gita. I think whatever I learned I can apply in my life.
– Ruxana VP
Amazing! It was like opening the treasure chest. Dhyanji, thank you.
– Geethanjali VS
We came to know about who a real devotee is, that change is inevitable, happiness is the ultimate goal of our life and that creation is not different from the creator.
– Akhila A
This couldn't be termed as a class as we found a family here. I learned what I am, what I am supposed to do and how to achieve my goals and stay happy. I'd love to attend more classes if I am fortunate enough and would be extremely glad if this was possible. Thanks a lot to Gitamritam family for giving me this unique opportunity to know more about myself. I promise I'll apply what I've learned from these few pleasant days in my life and make it worthwhile.
– Arjun CB
Helped me in regaining my self confidence and made me decide my goal in life. Firstly I was interested in learning Gita and Gitamritam gave me the best path to make my journey of life very easy with happiness.
– Dilip Kumar B
Actually I did not know about Gita and I have not read anything about Gita. After coming here and attending the classes of Gita I have learnt so many things and the most important thing is how to lead a life.
– Rahul Kowshik R