On June 3rd 2013 Sundari Nanda I.P.S, interacted with the students during the My Life, My Passion session. Her key message to the campers was to hold their faith and believe in the divine power. She said that faith is the most valuable thing in life. She emphasized the need to have a clear goal in life and to face every obstacle in life as a challenge, and challenge oneself. She added that one must be ready to turn the threats and obstacles into fertilizers for success. She encouraged the audience saying the Amma will guide everyone from within.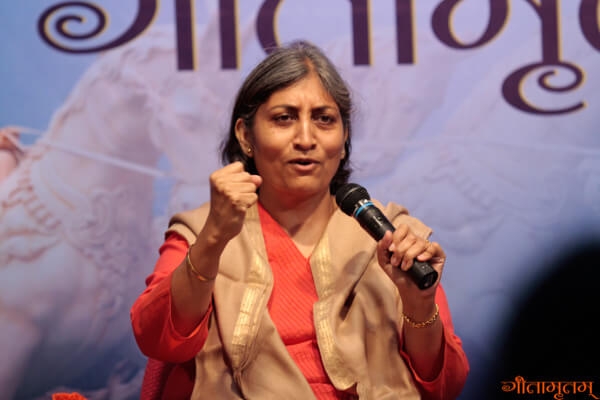 ====
Feedback
Have faith in the God. Follow the Dharma. Love and be happy in everything you do.
– Aswathi T.S.
She made us feel that difficulties are common in the path to achieving the goal but can be overcome if it is faced as a challenge.
– Pranav.S
The investigator was so good. She fought for our nation.
– Shruti Sreevalsan
She shared a good but challenging experience with us. Especially girls will be inspired as she has faced many challenges being a lady.
– Amritasindhu M
I got a good inspiration from her. She is one of the most courageous person I've met. Learnt how to be bold in taking decisions in life.
– Thiru Rama Krishnan.T
She lives according to the Gita.
– Prabuvignesh.S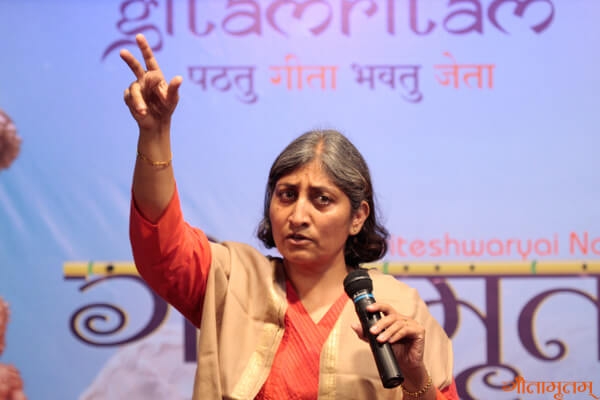 Inspiration beyond anything and taught us to choose between what is right and what is wrong. She stood for justice and it was knowledgeable.
– N.Vasudevan
Her life inspired me. The riskier the life more is the happiness you get out of it.
– Jayadev H R
If we have a will, nothing will stop us from doing good work.
– Mopuri Saitheja
I was inspired by her concern towards the duty and the work. Very nice.
– Miryala.Akhil Bharadwaj Maharaj
Incredible! I felt like listening to a crime thriller. But this is so real, her own life. "Have faith in self and never, never, never give it up", this is what I can say briefly.
– Aiswarya.P.L
By her speech, I really came to know how women should be brave and accept whatever situation comes to us and never give up at any time.
– J.Priyadharshini
A woman in a profession perceived to be MALE DOMINATED, immediately instilled confidence in me. Her thrilling stories reminded me of James Bond movies. Don't limit your challenges but challenge your limits is now perfectly glued within me.
– Daamini Visaalaakshi
She taught me, that with courage we can win over any challenge no matter what the task is.
– Neeraja Valsan
Very Dynamic. A true hero. If you are true, honest and follow your Dharma then Lord is always there to protect you!
– Prarthana Shedge
Wow wow wow, what a brave woman. She is my inspiration.
– Arun Prasath B
I learned more about the world from her talk.
– Ruxana .V.P
The session helped me to become more courageous. Now I think I am ready to face any challenges.
– Saranya.
I thought I was watching an action thriller! Felt so proud, so proud of that wonderful Indian lady.
– Geethanjali. V. S
Inspirational. Courageous. Humble.
– Akhila A
The roaring lioness sitting humbly and simply in front of us, it was great. But got to know some rare facts, and how to get over tough challenges in our career.
– Aswathi Krishna R.L
After attending her session the trust in the Indian penal code and the police officers was re-installed in me.:)
– Anjali Anil
Ma'am, You are still feared as an Officer free of corruption and by criminals but you amazed me by showing so much love and care to us. Your humility was really an eye-opener for me. You showed me the power of conviction and dedication to one's duty. Thank you so much.
– Arjun C B
Sundariji's session was also amazing. She found inspiration in facing troubles and threats, hold on to faith in God and that Dharma will prevail.
– Sujith Paliath Shaju
Great courageous lady and is an inspiration to the society.
– Dilip Kumar.B
Ms.Sundari Nanda is a real life hero who is never afraid to stand against wrongdoings. Hats off to her courage:)
– Nishanth Bhat K
I picked up one quality from her that is "never give up".
– Koushik K K S
I learned that whenever other than Dharma forces to do any action, in any circumstances, we have to follow Dharma, it leads to victory.
– Ram Prasath V R
Brave!. Never met such a brave personality in my life. I decided to fear nothing for reaching my goal.
– Prashanth S
I learnt about honesty and loyalty.
– Divyaprasaath S
If we have willpower nothing can stop us. I was inspired a lot.
– Sreeragh
A dynamic and moving person who stood her ground when all odds were against her. A person who is a unique blend of motherly love and fatherly sternness. Wonderful to have had a chance to meet you, mam.
– Hrishikesh Sivanandan
Her courage and her dedication towards god made me feel amazed.
– Balakrishnaveni.A
I had wondered about such officers, how could they be so dedicated to serving when they and their family could be in danger. She revealed to us how that could be possible- with a complete sense of duty and surrender to God. I would try my maximum to do the same.
– Gayathri P.S
Is really an inspiration for the youth and especially for the girls. A brave and courageous woman who loves accepting challenges. I was truly amazed by her personality. Awesome session.
– Anjani Kumar Pathak