Celebrity photographer Shri C Radhakrishnan spoke about his life and passion to the Gitamritam campers.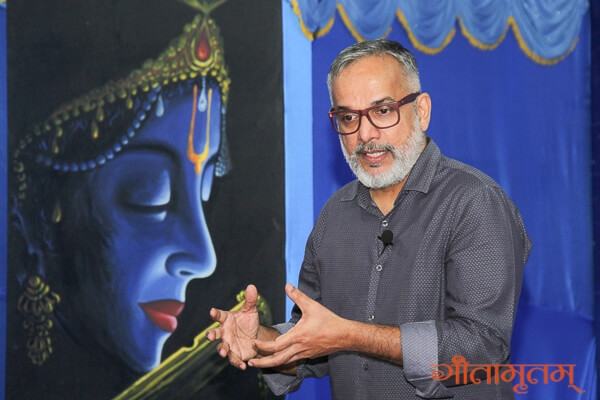 He started his talk with a slideshow of some photographs. He spoke of how his young son gave him suggestions for creating videos on Youtube. He said that he is here to learn from youngsters and that learning should never stop in one's life. He spoke of his early life in Ernakulam. He spoke of his simple life, playing cricket and how his life revolved around his home, his school and the temple. He spoke about his mother's love for movies and him listening to movie narrations from his mother and he was always eager to know who the cinematographer was. This is where his visualization capabilities started. After schooling, he had to move to Hyderabad to look for a job due to his family situation. His typewriting skills came handy in finding a job. He said anything that you learn will become useful in life, whether you learn by force or out of interest. Later he learned television mechanics. He got his first camera when he was in college and that is how he started being involved with photography. He started by taking photographs of events like birthdays and weddings and his work appreciated by people. He missed his college exams when photographing one such event, such was his passion. He said it is important to understand what one is interested in, and people to support a successful life.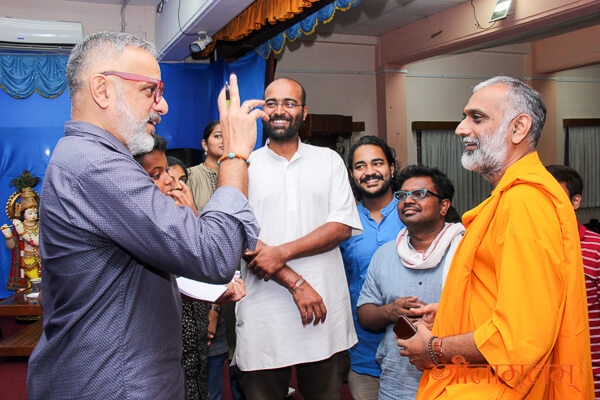 "Passion is something you will do even if you have a billion dollars in your bank". This is how he explained passion, to the students. He said despite that amount of money one should be pursuing his/her passion and not want to rest, and that is the seriousness with which one should pursue one's passion. He advised that there are two major requirements to pursue one's passion. One is to stay in an environment that would evoke the passion and let it come out. Next, it is important to recognize it early and test if that is what one wants to do in life. He decided early in life to go to Mumbai to become an advertising photographer. He said that when we think about something very seriously, nature will conspire to present the opportunities in front of you. People who he did not know gave money or film rolls, and he got opportunities to meet the right advisors. Nature conspires to send you the messiahs at the right time to help you, and we realize these messiahs only later in life. He then spoke of his career and the hard work needed to establish his career. He shared his experience of how he met Amma in Mumbai and how Her blessings got his big break to do shooting on Mother's Day. From that day on he never had to look back on his career. Finally, he said he would talk of any phase in life as a struggle since he did what he loved. He then shared several photographs and the experiences taking them with the audience. He left the campers inspired with his humorous and interesting talks and his passion for photography.
Feedback
He made us see the beauty of life through the field of the camera. – Anjana A
His amazing insights on life and his passion was extremely helpful to me and for me to think outside the box when it comes to my passion and what I love to do. -Devika Vinod
He is a lively person. I learnt that we should always stick to our passion even when society tells us that what we are doing may not be highly paid or respected. -Abhinav Saikrishna Maddipati
The most adorable person from whom I learnt to proceed with what passion I like and he helped me understand the divine even better. -Ananya G
I got to know how beautiful nature actually is and that it is not only the celebrities that have to be shot, everyone/everything is beautiful. -Dhanushree Ramakrishna
He has an awesome personality. He is funny and optimistic. -Radhesyam Raghav K R
I was inspired by his words, " change the habits". -Nitheesh Surya K S
He taught us to have confidence in our passion. -NS Sudarshan
I knew Radhakrishnan sir before camp as I was following him on youtube. I never imagined that I will see him in person. It was a very good experience. -Logesh R
Learnt that you should never stop learning and it is important to be down to earth. -Radha S Navada
The fact that everything we learn helps us someday and all the skills we develop will help us in one way or another was something that I found to be important. -Anagha Manoj
I am impressed by his speech. Like him, I too have a crush on photography. So I listened to him very keenly and took him as a role model. -Treshai Hary S
Learning never stops and we must be the first to own up to our mistakes and ask for pardon. Every moment is the right moment. -U Shriram
I learnt that for learning there is no age limit. -Subiksha R
He was a great photographer and I want to be a simple man like him. Even though he is a great man, it was his simplicity that attracted me. -Keerthana G