Shri Vinod Kumar Pandey enthralled the young audience with anecdotes from his life and shared his passion.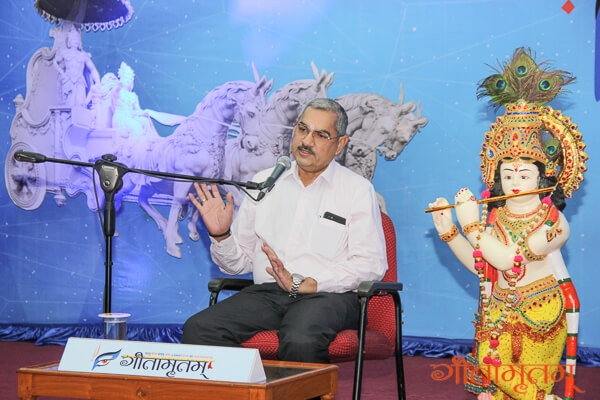 He started the session by asking the youngsters "What is life? Who do we owe our life to?"He said that parents are God for each of us, and we owe everything to them and must take care of them. He said that he got this advice from a saint when he was young. The saint said that if we pray to God for our parents' well being, we will be happy, and so will our parents, since our parents always care about the children's happiness. He went on to talk about passion and explained that for each of us, our interest develops in a direction and it drives us. That becomes our passion and makes us love our life. Passion, however, is demanding, it will force us to work very hard, and make us devote our energies. Therefore decide what you want to become early in life. He said that even animals and insects are passionate and love their lives. Passion can also be for one's well being. He gave an example of his father who was born in a poor farmer's family and was passionate about getting an education and improving his standard of living, that made him work hard and get to a good position in life. He learnt honesty, dedication, punctuality and work ethics from his father.
He then went on to explain his journey after joining the Police Force. He spoke about the training period which was rigorous, and at high temperatures. During the difficult phases, he spoke about how he kept going considering his family situations. After passing the training he was placed in different positions, but he was not happy with the work profile. He later applied to CBI and got selected. His first assignment was the Bokaro Steel Plant theft case, which was a challenging case, that many officers refused to handle. He explained how he solved this case through perseverance and strategic investigation. He said, "When you are passionate about your job, we can handle people who threaten or lure you". He went on to give interesting anecdotes from his other case, the JMM bribery case. He explained how he surrendered to Lord Hanuman to help him solve the case whenever things became tough. He enthralled the audience with his adventures and how he overcame difficulties through honesty, intelligence and determination.
He kept the campers enthralled with how he solved different cases, how he overcame difficulties and fear many times. His devotion to Hanumanji helped him in such situations. His passion for solving his cases was evident from his talks. He said that despite reaching top positions he has the drive to do more. He advised students that one must be fearless, honest, dedicated, work hard and be punctual and sincere. He said that he was not even thinking about his family when solving such cases. He reminisced about his long hours at work and how he did not even realize that his baby boy had started sitting. Such was his dedication to his work. His wife who is also in the police force was supportive and understanding. The students were inspired by his life and passion.
Feedback
I really learnt to be brave. – Pankajam T
His adventurous stories of CBI investigations were mesmerizing. -Adithya Kartha C B
I learnt the importance of our own strict rules, sincerity and dedication towards our goal. -Gayathri Narasimhan
His experience taught me a lot about following our own dharma and not others'. –Devika Vinod
The real respectful and fearless man who inspired me to live and look at the world in a different way. -Ananya G
It is not that a farmer's son should become a farmer. We should do what we like. -Dhanushree Ramakrishna
He gave me the most important lesson- that is to do our dharma and the right thing, we must not back down or be afraid. We need to be honest, punctual and disciplined. -Kushagrika Marwaha
The amazing narration had me on the edge of my seat. His life is one that should truly be admired. -Anirudhan Menon
I liked the things which made his life a miracle. -Buvana Varthani
I thought he was the new Sherlock Holmes. –Sachin Kurup
His life story was like a James Bond film. It was very interesting and thrilling. -Radhesyam Raghav K R
It was inspiring to hear his journey. Listening to his stories made me want to face fears in life and to be punctual, diplomatic and hard working. -Radha S Navada
I learnt that we should have the grace of elders which is the main source of success. -Pramarsha B S
Through his life experience, he told us how to be bold, disciplined, honest and punctual in our life. -Shama Chandrasekhar Sankole
Helped me understand that we have to be brave and follow our path whatever happens. We should stand up against people who are doing adharma and work selflessly for the society. -Anand
The real game of life in which he could do his dharma was a good example to me towards patriotism and upholding dharma. -PM Dharsshan
His investigation technique was very amazing. The investigation experience he shared with us was mind-blowing. -Amruth Ganesh Jm
He taught us the way to deal with people and his ideas of catching the culprits were very good which would make anyone inspire. -Anupama K Patil
The very definition of a patriotic Indian. His dexterity and agility have to be inculcated in every little child. -Aditya R
I have learnt that I have to have the dedication to reach my passion or goal. -Sushma K M
I am really glad to hear about the stories from the real heroes of our country. -G Kirtana