It's not uncommon for people to get baffled by the challenges and uncertainties thrown at them by life, in both professional and personal fronts. How to be happy all the time, is money the answer to all problems in life, is there a magic formula to win love from your family or how to stay ahead of the competition in the work front…the challenges are endless. Many a time, we just stand there staring at the puzzle called life, yearning for a guide to shepherd us through testing times. Everyone everywhere goes through testing times and the Bhagavad Gita was revealed at such a time of crisis, on a battlefield. The ancient scripture that came into existence many millennia ago still inspires people around the world to rise up in the battlefield of life and find happiness in their pursuits.
The participants who attended the Bhagavad Gita classes found them to be soul-stirring, refreshing and revitalizing. People had very dramatic experiences during the sessions, like Ms Gayathri Sarmishta, who felt the session to be like a movie where her life was played in front of her eyes. The unique experience has given her a unique perspective to look at life and make a balanced judgement. ''The session was an enriching experience that filled my heart with true courage to face even unpleasant incidents with composure'', Gayathri said.
Probably, the greatest takeaway from the class was the ability to make sense of the emotional roller-coaster called life. Participants like Mr Yugesh Moturi said that he has got answers for all his questions and the whole experience has made him a happier individual. The content and explanation of the class were really exceptional and the simple language enabled everyone to access complex concepts, observed Mr Srivardhan T.P. It was a ''simple, thought-provoking series of classes filled with pearls of wisdom and tons of jokes'', said Mr Subhilash P S, with enthusiasm. Getting an all-new perspective was like having a brand new pair of eyes, felt Mr Arun Kumar S., who remarked that ''the sessions have changed my perception of how I see the world and gave me the confidence to take on this world of Kaliyuga. I'll surely put these principles into practice to reap their fruits.''
The classes were very engaging and the experience was very enriching, observed Ms Preetha Sampath who thought the session empowered her to live life with a different perspective, face it like a game with 100% effort, enjoy it as much as she could and accept the results with equanimity. Getting clarity on human thinking and acting patterns helped him a lot, said Mr Abhishek A Ahuja who was all praises for Dhyanji for the spectacular session.'' He reads prescription shlokas from the book of Dr Gita and tells us what is the way to act, think and what is the motivation for all our actions.'', stated Mr Ahuja. He went on to say that the session taught him to put his worries aside and continue with his Karma.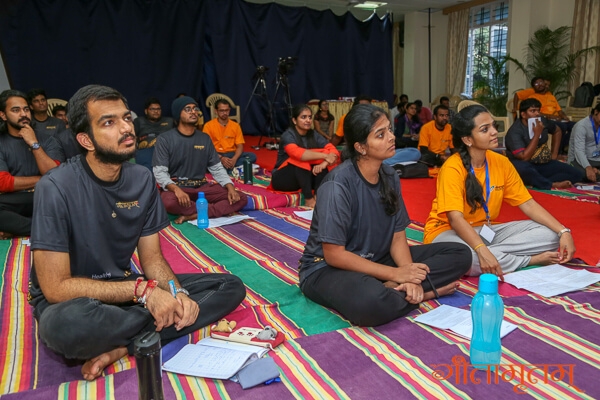 The pursuit of happiness was Mr Arpit Agrawal's objective and the session has led him to do a little introspection. The realization has liberated him and the experience has impressed him to recommend the sessions to everyone. Like Arpit, a lot of people are wondering whether we could ever experience true happiness in our lives or we could only pursue it. Those who came to the sessions have realized that true happiness can only be attained through detachment, which was a revolutionary revelation. The concept of detachment dawned on her through the revelation "I don't own even my body, I'm only using it.", said Ms Preethi P. This learning became a catalyst for her self-realization, which enabled her to know and experience happiness in its purest form. The learning that 'happiness is not related to objects'' has done the same to Mr Dhanush B.N., who considered the class to be a unique experience that provided him with a new perspective on Dharma and gave better clarity on attachment. Mr Praveen Raja P learnt that attachment is really a human reaction to his/her likes and dislikes and it is a natural phenomenon when you base your happiness on temporary sorrow and joy. He was of the opinion that Gita classes were capable of cementing the profound principles onto the back of our minds.''
The participants found the classes to be life-altering experiences and everyone was keen to return the next year.