Padmashree Dr P Vijay Bhatkar is the founder Executive Director of C-DAC, India's national initiative in supercomputing. He is presently the Chancellor of India International Multiversity, Chairman of ETH Research Lab, Chief Mentor of I2IT, and National President of Vijnan Bharati.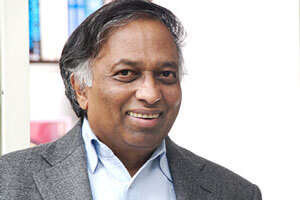 Creation:
He is credited with the creation of several national institutions, notably amongst them being C-DAC, ER&DC, IIITM-K, I2IT, ETH Research Lab, MKCL and India International Multiversity.
Awards:
He has been honoured with many awards. Some of them are:
Padmashri,
Maharashtra Bhushan awards,
Saint Dnyaneshwar World Peace Prize,
Lokmanya Tilak Award,
HK Firodia and Dataquest Lifetime Achievement Awards
Publications:
Dr Bhatkar has authored and edited 12 books and 80 research & technical papers.
Research:
His current research interests include Exascale Supercomputing, AI, Brain-Mind-Consciousness, and Synthesis of Science & Spirituality.
Gitamritam speaker in the year 2013.