Having trained under Legends Ustad Alla Rakha, Ustad Zakir Hussain and Pandit Yogesh Samsi, Muthu has been a freelancing tabla player and lending his tabla accompaniment to musicians from various genres of music ranging from Hindustani classical, Karnatic rhythmic ensembles to popular film music, ghazal, fusion, hip hop, gospel, rock etc.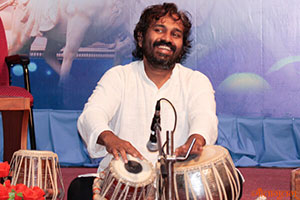 In the 15 years of professional tabla playing, Muthu has developed his own unique groovy style which has created a niche for him in the world of professional tabla playing. He has been playing the Tabla since the age of five. He is a part of three Music bands in Banglore and has a rare distinction of being taught by both Ustad Allah Rakha as well as Zakir Hussain. He has travelled the globe with many famous musicians from genres as diverse as Indian Classical, Jazz, Bhajan, Ghazal, Fusion and Bollywood.
Percussionist:
With a huge collection of percussion instruments and skills from his travels around the world, Muthu has created his own unique sound with a percussion set up consisting of a Cajon, a darbuka, bongo drums, tablas, kanjeera and a wide range of Small effect percussions.
Contact:
Gitamritam speaker in the year 2013.