More than 30 years teaching Mechanical Engineering Indian Institute of Technology Delhi. In his view, the thrust of the science and technology establishment should be towards helping the 'poorest of the poor'. He has attempted a number of experiments in teaching.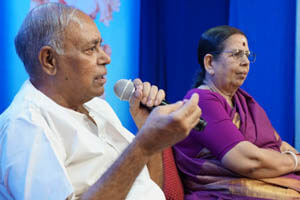 Awards:
He was a part of the team to receive the best invention award by the NRDC in 1983.
Meritorious Award by IIT-Delhi.
Working:
He worked in Centre for Rural Development in IIT Madras,
Bharath Gyan Vigyan Samithy, Delhi as the National Coordinator for watershed development
Integrated Rural Technology Centre, Palakkad, Kerala.
Preserving the priceless paintings:
Offered a method of preserving the priceless paintings in the Jaina cave at Sittannavasal, by setting up a heritage complex incorporating a recreated cave shrine.
Documentation of the Ajata painting:
Done extensive documentation of the Ajata painting tradition. The documentation includes a resource book detailing every important cave and every significant painting in them.
His major post-retirement activity was documenting the Pallava art at Mamallapuram, and a coffee-table book is an outcome.
Culture-scaping:
This is landscaping focusing on our heritage and culture. Helped set up a centre for arts and culture, called Sudharsanam, in Pudukkottai.
To educate youth to have an understanding of our heritage, and consequently lack a sense of identity, talk with students. The topics included Indian music, Sanskrit, ancient Tamil literature, Tamil prosody, development of scripts, etc.
Oral Tradition of Sanskrit:
Talks on the extraordinary structure of Sanskrit, its unexcelled grammar all built very scientifically to be passed on orally without corruption are explained. And the fields covered not only poetics and literature but also a scientific tradition.
Story of Scripts:
tracing the origin of writing in five ancient cultures – Sumerian, Egyptian, Chinese, Meso-American and Indian – and adding Korean script, the most scientific script of the world. Siddham and Tibetan are discussed as belonging to the esoteric dimension of writing and aesthetic potential was explored through Arabic calligraphy.
Physics and aesthetics of Indian classical music:
This is an attempt to demystify our art. One of the two major systems of the world, our music of about two millennia vintage is built on strong physical principles, and developed following its own genius and maintained a unique tradition. Lecture-demonstration on this subject was a part of a course in Art and Technology in IITD for more than 8 years.
compiling cultural atlas: This is an attempt to write the cultural and social history of every village in this vast country, for which he has designed suitable procedures and formats.
'Is there an Indian way of thinking?'
His presentations on the Introduction to Indian Heritage, Our Temple Heritage and Architecture of the Indus and the Vedic Periods are the results of his continued inquiry into this subject.
Tamil Heritage Group is an attempt to raise an army of 'foot soldiers of heritage'. Among its many activities, like monthly talks and heritage summer camp for children, is organizing residential site-seminars every year.
Presently he is helping set up a college for arts in Kanchipuram offering a degree in arts integrating literature, performing art and fine arts.
Gitamritam speaker in the year 2015.