Major Devender Pal Singh (DP Singh)
A proud Kargil war veteran, he is 42 yrs old.
Injured badly in war to the tune of being declared dead, Maj Singh survived to shine as India's only amputee marathon runner, famous as Indian Blade runner, he has successfully completed 14 half marathons till date. His half marathon timings has improved from 3hrs 40 min in 2009 to 2hrs 10 min in 2013.
Record of Disabilities
A triple Limca record holder, honoured by Canadian Government, conferred with REX Karamveer Global fellowship(2014-15), first Indian to start running on artificial limb inspite of so many under mentioned severe disabilities like: Amputation right leg, Partial hearing loss of both ears, Twice operated stomach and partial removal of intestine, Left knee derangement owing to ligament implant, Around 40 shrapnel embedded still inside various body parts, Urinary bladder operated for tumor, & Cervical Spondylosis
The Challenging Ones – (TCO)
The Trust, registered in 2011, TCO is a group of Indian amputees, where Maj. Singh tries to share and shape up the attitude to convert, the challenged into The Challengers.
In just 3 yrs, TCO has proudly made around 70 challengers participate in various running events. This is the first time happeing in the history of India. Maj. Singh aspires to increase current membership of 750 to many fold and make shift in perception of society towards Ability from disability.
Maj Singh is an avid speaker, inspired many on platforms like TEDx and educational institutes.
Facebook: MajorDPSingh
Twitter @MajDPSingh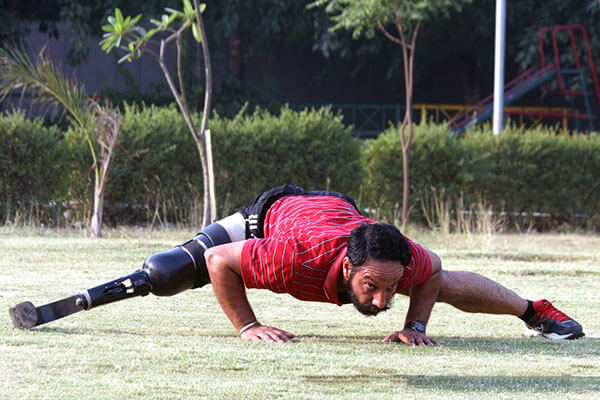 Gitamritam speaker in the year 2015.