His passion for dance goes beyond the classical idiom. Having an international lineage of Indian, Chinese and Nepali origin, Charles was initiated into Bharatanatyam by Smt.Vidya Shimladka. Studied and trained under different teachers, the upcoming soloist and his performances attract more young audience.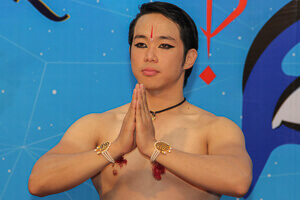 He has been invited to speak at the TED X series, the Volvo Leadership summit, Ink Salons, NID, College art workshops, Seminars etc. Charles has performed at many prestigious festivals across the country and has received commendable reviews.
He now works on his own and his choreography is creative, young and is constantly attempting to find a modern identity to the traditional art form of Bharata Natyam which he practices. Teaching is a passion second only to dance. He is a committed teacher and imparts the art form to young children across the city. He also teaches Bollywood and Contemporary dance. He has learnt Mridangam and also learns martial arts as a hobby.
He wants to be known as the best dancer in India in the coming decade.
Gitamritam speaker in the year 2015.