Dr Sanjeev Vasudev began the session by saying that he was deeply influenced by Swami Vivekananda.
He and his wife's decision to get married was mutual as they were both in the same medical field. They have been married for 17 years. They made a conscious decision to not join the race to make money and instead chose to devote their lives to the service of others. They decided to live simply.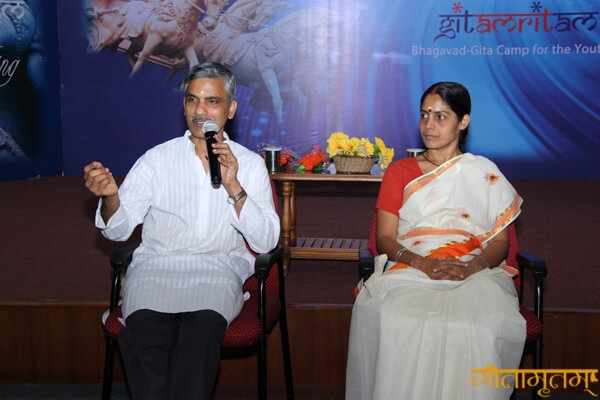 They described marriage as a three-legged race. In order to move, one has to exercise care and caution, and there should not be any blame among partners. They stated that mutual love and respect is important in a marriage. The couple also stressed the attitude of giving, to accept the limitations of each partner, and to move ahead. They also said that it was important to say sorry if the partner was wrong.
The humbleness and humility of the couple impressed the participants – especially the fact that they lived on limited resources without modern gadgets.

They say..
Valli Kannu: We learned that there could be two bodies with one mind. Hats off to them for their seva!
Dr Manjula Arun: A wonderful couple! An excellent example of perfect devotees.
Dr Dhanya Prasad: Their lives are an inspiration on how to live piously
Anila: It is easy to say things, and hard to put into practice, but they proved that nothing is impossible.
Shyam Kumar: An ideal example of how couples in the same profession can work together, complement, and supplement each other so beautifully.
Nidheesh. M.: Very inspirational. I bow down to them. There are not enough letters in the English language to write sufficiently about them.
Durgalashami C V: Excellent! The impact it had on us was to show that one has to sacrifice to reach a higher goal.
Dr Medhini Menon: Most inspiring couple! They actually live and show us how to achieve maximum happiness with minimum wants and desires.
Dr Shanti K: Very good and worth following.