Smitha, Lecturer, (M.A, MPhil in Psychology) Department of Clinical Psychology, Amrita Institute of Medical Sciences, Kochi. She was also part of the Disaster Management team that provided group counselling and individual counselling as part of the tsunami camps organized by Amrita for tsunami victims.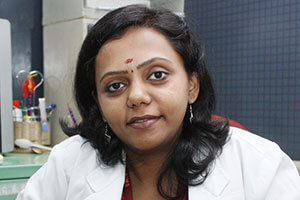 Professional Experience:
She currently provides counselling and conducts Neuropsychology Assessment, Rehabilitation and Relaxation & Pain Management at AIMS, Kochi.
Teaches Masters in Hospital Administration, Respiratory Therapy to the nursing students at AIMS, Kochi.
Was a Research Assistant in the Antibiotic Prescribing Pattern Project and in the Cognitive & Behavioural Neurology Clinic where she conducted Neuro Psychological tests for elderly in urban and rural areas.
Gitamritam speaker in the year 2013.