Assistant Professor, Dept. of Gynecology, Amrita Institute of Medical Sciences, Kochi.
Conducting interdisciplinary research in the fields of Medicine, Engineering and Astrology for the betterment of mankind.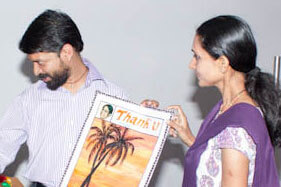 Education
One and only person in India with a post-graduate degree both in the field of Medicine (MD) and Engineering (M.Tech).
M.Tech Amrita University 2009
MD (Gynecology) Calicut University 2008
DGO Calicut University 2004
MBBS Calicut University 2000
Research
Astrology – Learned the basics in childhood. Into serious research in medical astrology since 2004.
Achievements
Secured 3rd rank in M.Tech
Secured 1st rank in M D
The patent in wound dressing material
Published International paper in "nano-based wound dressing material"
Published national paper based on genetics.
Published national paper based on Astrophysics
Presented a paper in the international conference of Nutritional Medicine in 2012
Presented a paper on Medical Astrology in the International Conference on Science and Spirituality.
Additional
Learning Disability – Being a dyslexic herself, she has been conducting a Learning Disability Clinic since 2005.
Nutritional Medicine and Wellness Clinic – since 3yrs.
Polycystic Ovarian Disease Clinic – since 7yrs.
Gitamritam speaker in the year 2012.