The Kuchipudi dancer and actor Shri Haleem Khan enthralled the Bala audience with his fascinating life. The session started with a short and wonderful promo of his dance and his life.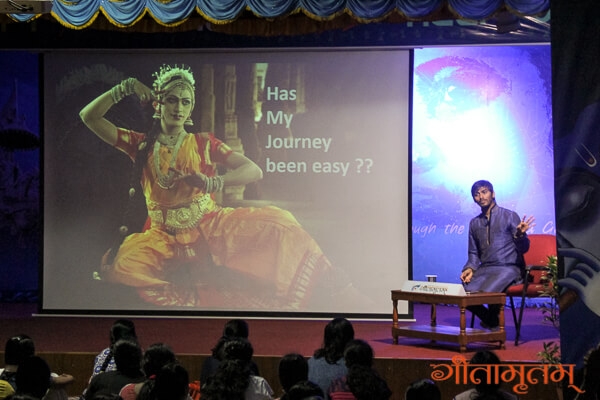 "Born into a conservative family, Haleem Khan demonstrated that art is beyond religion and creed".
Introducing his journey of life, he said: "For me dance is everything". Combining humour and bhava he took the audience through his journey. He spoke of how he used to watch and enjoy classical dance programmes on TV for hours when he was young, and this slowly turned into an obsession and he wanted to learn dance. He explained his family situation and how he silently and patiently waited for the right opportunity to learn dance. When he found the opportunity, he persisted in getting his first teacher in accepting him as a student, who was initially apprehensive of teaching him. He secretly continued his classes with this teacher, and later with her Guru. He explained how he used to practise in the bathroom and secretly continued his classes and practise for almost four years. His passion drove him to move to Hyderabad on the pretext of learning hardware engineering. There he got the opportunity to teach dance, and perform on stage. As he was balancing his passion for dance, his programmes and his work he decided to pursue dance as a career, risking failure and other challenges. He also spoke about how he started donning female roles as a Kuchipudi performer. He then gave a humorous recollection of how his family came to know about his dance, when a local TV came to interview them and how his strength, his dedication to his art helped him convince his family to accept this.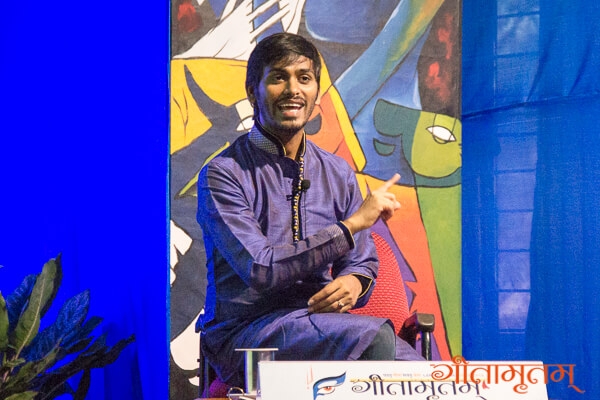 Convincing family and overcoming the differences was a challenge and he explained how he managed the situation of a man donning a female role. He wanted to preserve the tradition of Kuchipudi where traditionally men don female roles. He said even today we learn Bhagavad Gita since it is not just a book, but our culture. We have so much to learn from it, and it is our tradition. Similarly, he wanted to carry on the tradition of Kuchipudi and pass it on to the next generation. He slowly delved into the contradictions of his religion of birth and the religious aspects in the dance he was pursuing and how society looks at it. He told the audience that for him dance is his religion. This he says is how he sees his India, his religion and life. He explained how this was natural for him as a dancer. He said that while dancing he learned so much about the deities and this was not just physical but he experienced them mentally and spiritually and became one with them. He said unless you truly believe in the stories and that they are Gods, you cannot portray them genuinely. He says when he dances as Parvathi he becomes Parvathi. He eloquently explained that he becomes more than a devotee, and that is the strength that dance gives, and this helps transports the audience.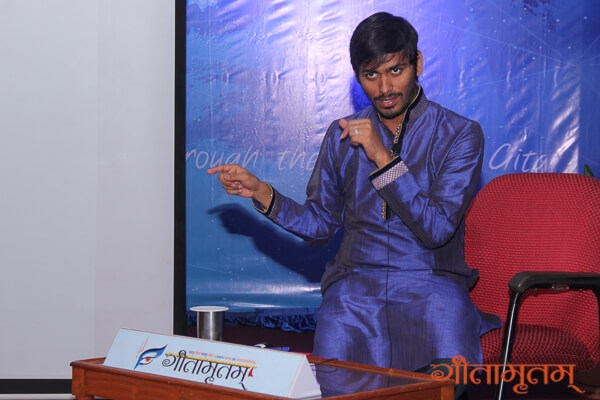 He says he believes it is his destiny to become a dancer, and that can be seen from the way he followed his passion and overcame so many difficulties to pursue it. He advised the students, that to do anything in life, it takes some struggle and constant fight to help achieve it. He said that one strong love and desire should be there and we should surrender and God will give strength to open doors in this journey. When you are happy & comfortable with your life, love every moment of what you do, and wake up looking forward to it every day, there is nothing more you need. You may have small struggles, but you should be ready to fight for it and achieve it. He concluded the inspiring session with a small demonstration and made the campers do a few steps along with him, leaving them inspired and motivated to pursue their passion in life.
Feedback
He opened our eyes to towards our passion which we had never given a chance to grow. – Anjana, Mathipriya, Vidya & Anirudhan.
He is our role model. – Keerthana and Prathiksha.
He has inspired us. – Keerthana, Anjana, Aditya, Amrit Subramaniam, Aishwarya, Yashas Kumara Adi & Ramyadevi.
Helped increase our faith in God. – U Shriram, G Sripujitha,
Amazed at the fact that he "blew up the stereotyping and labelling of society". – Aditya & Ramyadevi.
Great to see someone who grew to be so successful even after facing so many hardships.- Seaynawa
His life's story taught us that failures are also good. – Aishwarya Ht, Anupama K Patil & Buvana Varthani
Taught me the importance of passion, willpower, hard work and confidence. Unable to believe that he was in front of me. – Shakti
Taught me how to be simple. – Sandhiyae
Like the fact that he did not show any inequality between religions. -Samhitha
Liked his straightforwardness. – Rohan
Never seen someone who is so passionate about dance. – Vaidoorya
Could especially connect to him as a dancer. – Devika
But most of all you have inspired many students to overcome their obstacles and pursue their passion.