Clinical Professor and Head, Pediatric Cardiology, Amrita Institute of Medical Sciences, Kochi, Kerala.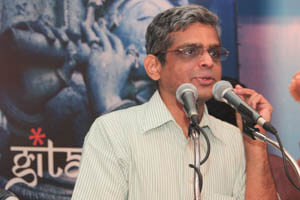 Educational Qualifications:
1984:MBBS, Maulana Azad Medical College, New Delhi
1988: MD All India Institute of Medical Sciences, New Delhi
1990: Cardiology, (DM) All India Institute of Medical Sciences, New Delhi
Fellowships:
1996: Pediatric Cardiology, Children's Hospital, Harvard Medical School, Boston, USA
2002: Fellow of American College of Cardiology
2007: Fellow of the American Heart Association
Awards:
December 1990: Best Postgraduate in Cardiology (Gold Medal), AIIMS
March 2006: Vocational Service Award, for contributions to the "Gift of Life" program by Rotary International
September 2012: Tri-decennial Medical Teacher of Excellence Award by the National Board of Examinations
Career Highlights:
Establishment of a pediatric heart program at Amrita Institute of Medical Sciences (AIMS), Kochi Kerala
Establishment of large community-based studies on rheumatic heart disease, congenital heart disease and childhood hypertension and obesity
Development of new techniques for closure of patent ductus arteriosus (PDA). The new techniques have enabled the closure of over 1000 PDAs at Amrita Hospital at a relatively low cost. This is one of the world's largest single-centre experiences.
Teaching and Training of Pediatricians and Cardiologists in India and Neighbouring Countries through numerous Lectures, CME programs and Workshops
Initiating a national fellowship training program in pediatric cardiology under the National Board of Examinations
Organised the annual conference of the Pediatric Cardiac Society of India in 2000 and 2008.
Over 60 CME courses and workshops in Pediatric cardiology, Echo and Interventions in India, Pakistan and Sri Lanka,
9 National conferences
Publications:
132 in all, includes Journals such as
Circulation
Annals of Thoracic Surgery
Am J of Cardiology
Am Heart Journal
American Journal of Roentgenology, Cardiovascular and interventional Radiology
Catheterization and Cardiovascular Interventions
JTCVS
Journal of Pediatrics and, Heart
also Authored 2 books,
Founder co-editor of Annals of Pediatric cardiology
Gitamritam speaker in the year 2013.