She hails from Rana Dynasty of Mewar, Rajashtan. She can understand and speak over 13 National and foreign Languages.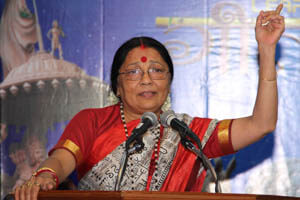 Renu Completed her education in the field of Law and master in English Literature from Lucknow University. Her grandfather was the King of Chittore, Rajasthan.
Samadhan:
She is the founder of Samadhan- an NGO which toils for a violence-free globe for women and children. In her 38 years of service, Samadhan has rescued more than 3800 women victims of violence and sexual abuse, rehabilitated and educated them of which 1700 of them are practising advocates. Few of them have become Judges, IAS & IPS officers and Govt officials. Most of the girls are married and settled, leading a normal life.
Adv. Renu Singh is also a recipient of several national and international awards.
A recent initiative, Samadhan's Mobile Legal Clinic (MLC) aims to make women their own protectors. Survivors work as paralegal volunteers to provide legal aid for their community.
Samadhan refuses donations from tax defaulters or persons with a dubious background. They firmly believe that money used for a noble cause has to be clean money.
Family:
Her husband Sanjiv Sarkar is a pillar of support in her mission to alleviate the pain of the distressed. Her only son and three brothers are currently serving in the Indian Army.
Contact:
eMail: samadhan09@rediffmail.com
Mob: +91-98977-57509
Gitamritam speaker in the year 2015.