She survived a catastrophic accident that left her a quadriplegic, confined to a wheelchair for life.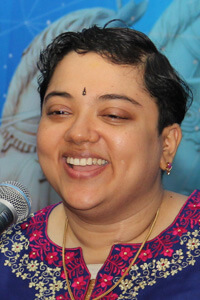 Before, Preethi was the youngest member of the Tamil Nadu State Women's Cricket Team, who started representing the state at just eight years of age. She started to swim at the age of 3. At the age of 8, she was the member of the senior cricket team of Tamil Nadu. At the age of 17, she was the under 19 Tamil Nadu State cricket team captain. She was a National Level swimmer and exceptional in academics as well.
A moment of misfortune turned her life upside down, a freak accident in Pondicherry that damaged her spinal cord irrecoverably. She completely lost her identity in the span of a split second! Her life changed from being a bright young student and sportsperson to a person confined to a wheelchair. That was in 1998 when she was just 18 years.
Overcoming her odds with a profound inspiration and sense of purpose, today she is a spirited and an exemplary fighter for the causes of restoring, rehabilitating and re-integrating those suffering fatal spinal cord injuries and differently-abled women via her foundation, SoulFree.
She is a professional speaker and has delivered inspiring talks
She's listed among top 16 famous Indians with disability for 2014 and recently won awards from Femina and Rotary.
Recognition and Awards:
* Vijay TV's "Sigaram Thotta Pengal – Ray of Hope" award
* Raindrops' "Woman Achiever of the Year 2014" award
* Femina "Penn Sakthi" award bestowed upon the top 10 most influential women in Tamil Nadu for the year 2014
* Envisage ability award 2014
* Sudesi magazine's "Dhruva award" for excellence in social work
* The Rotary's highest award "For the Sake of Honour"
* "Agent of Change" Award from district Rotaract Council (Rotary International district 3230) for the year 2014-15
Education:
M. Sc. Psychology
B. Sc. Medical sociology
Work:
Content writer for websites.
Gitamritam speaker in the year 2015.