Every day we had swimming classes in the Olympic standard swimming pool @ Amrita University.
The children were taught to swim through life with Love and with out fear.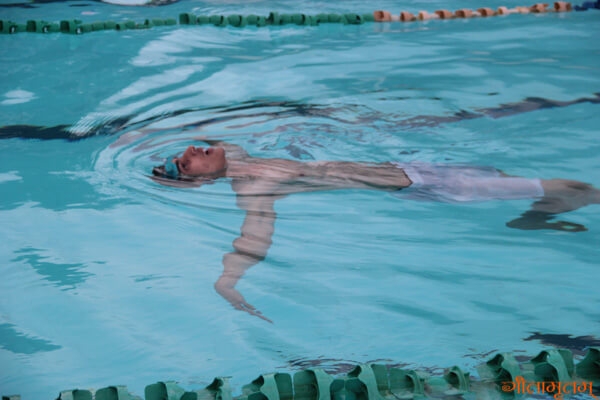 ====
Feedback
This is first time I am entering a water pool.It gave me the feel of water.
– Aswathi T.S.
It was a little difficult task as the water was very cool in the pool.
– Pranav.S
So nice to do it. We forget ourselves while swimming.
– Shruti Sreevalsan
At last I learned to swim, but when I was put to the big pool I just got scared. However I am happy that I can swim in the small pool very well.
– Amritasindhu M
Because of my father I lost the chance for competing in swimming events. After that I didn't go to the swimming pool. Here they taught that everything is good and they made me to enter the pool with a smile in my face. Thank you Gitamritam family.
– Prabuvignesh.S
I had Hydrophobia before I came to this camp. But at the same time I was not ashamed to go to the baby pool. I decided that I would learn swimming at any cost. And yes I did learn how to swim. Maybe not as good as a professional, but as a beginner. Thanks a lot. I offer this opportunity to Bhagavan.
– N.Vasudevan
Swimming was a very good warm up and a best possible start of the day. I'm a better swimmer now and I have faith that it would help out for my purpose of being navy officer.
– Jayadev H R
It gave us a lot of enjoyment, but to get that enjoyment we should go early mornings, and should bare pain for enjoyment.
– Mopuri Saitheja
This is the best recreation I had.
– Miryala.Akhil Bharadwaj Maharaj
It was the first time I entered a pool. But still it was so good because of the climate and the location of the pool. It was so good.
– J.Priyadharshini
We had a great time splashing, jumping and what not, in water.
– Daamini Visaalaakshi
I could win over my fear of water and learn basics of swimming.
– Neeraja Valsan
I love it. I have been swimming since my junior grade. Though we missed a lot of sessions I decided to enjoy it to the fullest. This was the first time that I swam with full awareness of my moves, my body cutting through the water, and feeling every breath. It is said that only when you stop breathing you understand the importance of your each breath. I lived it.
– Prarthana Shedge
Learnt the basics. After swimming I really felt what freshness is.
– Arun Prasath B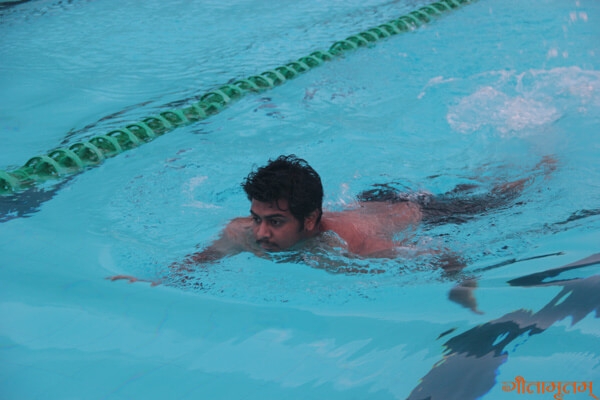 It is a great experience, because it is the first time I am swimming in a pool.
-Ruxana .V.P
Great experience. It was my first time under water!! Felt like I'm in heaven, totally relaxed and enjoying each moment of it!!
– Geethanjali. V. S
Never learnt swimming before and loved to learn it. Just got a few days to learn it. Still, it was a good experience.
– Akhila A
I am a girl who is scared of swimming. I learnt to control my breathe now. I learnt if there is belief then we can do it. I thought it was impossible for me but I made it possible. I also studied how to be perfect in our activities because in every class I try hard to do it perfectly.
– Aarathy E R
Learnt to float and got a chance to enter the biggest pool I've ever seen with my eyes. It was cool.
– Aswathi Krishna R.L
It was very useful. Had an opportunity to learn some of its basics.:)
– Anjali Anil
I didn't know swimming and I'm still a learner. But you were patient enough to teach me even in these cold mornings. I really enjoyed the swimming sessions here.
– Arjun C.B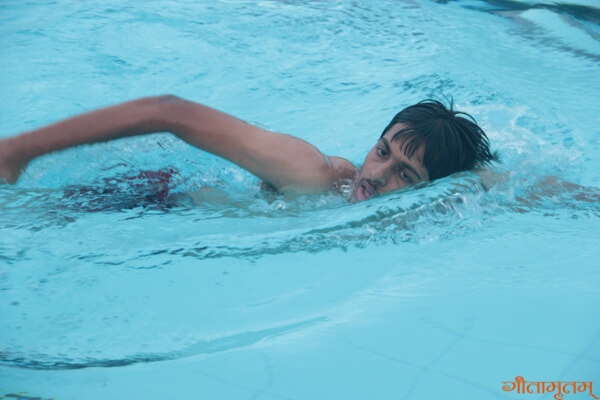 I was glad that we had swimming in the morning and yoga in the afternoon.
– Sujith Paliath Shaju
Since this was the first time I went into the swimming pool (to learn of-course) I had a few inhibitions in the beginning, but now I don't have any inhibitions and I have learned a bit of swimming. The pool is wonderful.
– Nishanth Bhat K
I love swimming since it was in the early morning, it helped me to wake up early. I enjoyed a lot.
– Koushik k k s
I am completely present and I love to go to the ends of the pool which brings me confidence to face challenges
– Sathyamoorthy.A
I learned some techniques of swimming.
– Ram Prasath V R
Well I learnt to swim and that's something big.
– Hrishikesh Sivanandan
I was afraid of water before but now I can swim without any fear.
– Balakrishnaveni.A
Always wanted to learn swimming! Thanksto Gitamritam camp, I was able to learn atleast a bit and thanks to the instructor. She was very patient and encouraging. My fear of water has reduced now.
– Medhini Madhavan Menon
We enjoyed a lot in the pool, splashing water and also learned to swim.
– Parvathy Venugopal
Was a nice and a fun experience.
– Anjani Kumar Pathak
https://www.gitamritam.com/images/13yv-swim-0f.jpg
217
300
Sanjaya
https://www.gitamritam.com/images/gita-weblogo.png
Sanjaya
2013-06-06 00:51:04
2019-01-14 17:43:17
Swimming with Love