What is Samartha Camp?
Samartha camp is for students who attended any two camps of Bala/Yuva/Kalyan and wanted to lean deeply Gita.
After the Gita classes, each day you will be given different projects and tasks to complete through which you will be learning in-depth.
We will be doing research on Gita and its applications, how it can be made more beneficial to in the modern scenario. (आचार & प्रचार )
By this camp, you should be Samartha – smart enough to face any challenges; ready for anything – empowered by Gita.
The benefit of the camp will be according to your mental attitude, your intellectual commitment,
as well as with how much shraddha you attend the session, and the grace of the Lord.
Q: What is the age limit for attending Samartha
There is no age limit. Whoever attended previous any two camps of Bala/Yuva/Kalyan may join.
Q: What are the activities during the camp?
Gita classes – More of application of the principles and spreading the awareness (आचार & प्रचार )
Yoga,
Meditation,
Bhajan,
Workshops (on concentration development,  health, life sciences, etc)
Discussions and presentations.
Q: What is the timetable?
Daily the session starts at 5.30 in the morning and is scheduled up to 10 at night.
The details will be given to you once you join the camp.
We assure that you will be fully engaged.
Q: When should we come? When can we leave?
The Samartha camp registrants should report well before 8:00 am on 13th June and finish your registration process.
Stay till 16th June Evening 6.00.
Once the camp is started, no one is allowed to join.
Leaving the camp before completion is strongly discouraged.
One should join the camp only after committing to complete the full four days course. 😕
Q: How will this Samartha camp be different from other camps?
The format is completely different.
There are no My Life My Passion sessions.
Activities also will be different.
Yoga and Meditation sessions will be more intense.
After the Gita classes, projects assignments and discussions will be there.
The purpose is to know Gita in depth and try to spread it's message in our own way. ( आचार & प्रचार )
Registration, Admission
&

Fees
Q: What is the camp fee for Samartha?
Once your application is verified, a registration form will be sent to you.
You will be admitted to the camp only if you are eligible.
In addition to the application fee of ₹ 1000, plus there is a Camp fee of ₹ 1,000/- per person.
The amount should be paid through BHIM app via UPI payment method (
gitamritam@upi
).
Send a screenshot of the transaction via email to 
contact@gitamritam.com
(once paid, the amount will not be refunded)
Gitamritam co-ordinator
Amrita University,
Ettimadai, Coimbatore 641112.
Mobile:+91-944-237-4789 
Q: How to pay the money? How much?
For application time:
You need to scan the BHIM code below or
Use the address gitamritam@upi to send ₹ 1000/- (application fee)
For the Camp fee, additional (₹ 1,000/-) only after the selection. (which we will intimate you via email)
In the remarks column please mention the name of the participant.
(once paid, the amount will not be refunded)
(If your bank has a mobile app, it should be possible to send money from that to gitamritam@upi address.
separate installation of BHIM app is not needed)
Email the above details (BHIM transaction no and from which mobile is sent)
with your personal registration info
to  contact@gitamritam.com on the same day.
Gitamritam co-ordinator
Amrita University,
Ettimadai, Coimbatore 641112.
Mobile:+91-944-237-4789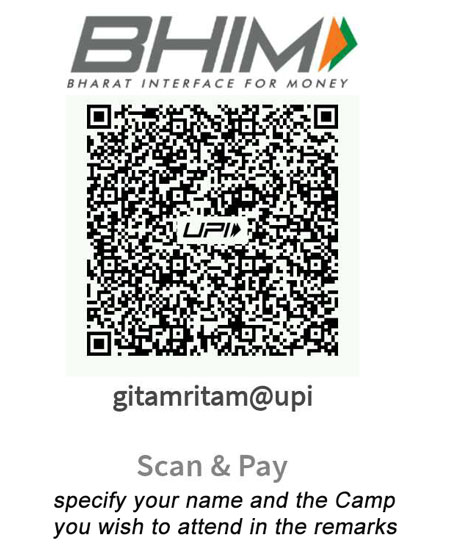 Q: When is the last day of application
The last date of application is 30th May for Samartha 2019
Q: I didn't get any confirmation mail. What should I do?
Are you sure that your email address entered were correct?
Pls, check your email spam folder too.
If you haven't received one, please send a mail to contact@gitamritam.com
We suggest you to add contact@gitamritam.com
to your address book for better future communications.
Q: What are the items to be brought to the camp?
Few pairs of regular dresses (you may not find time to wash),
Suitable yoga attire
Swimsuit
Bedsheets
Toilet kit
Canvas shoes & cap (for campus walks & games),
A handbag
Notebook &  Pen
Water bottle,
Cellphones may be brought but will only be allowed for restricted timings or in an emergency.
Essential pocket money can be brought. The camp fee is only for your stay and food.
Two plastic covers to keep the wet/dirty clothes after the swimming session. 
(In the camp, you have to take care of your valuables.
A locker will be provided on request.
We suggest you refrain from bringing costly items like
jewellery, costly phones, tabs, laptops and excessive cash. )
Q: What about food & water?
Decent free veg. food will be provided.
Purified filter water is available for free.
There are also paid canteens available in the campus.
Q: What about bedding?
We have moderate arrangement for sleeping. Please bring bedsheets.
Q: What about mosquitoes?
Yes they are there. They love you.  😀
Please use some cream to be friendly with them.
Q: Anything else we need to bring?
Any small equipment that will help you to present your talents in music/arts in the respective sessions.
Q: What about the weather?
Usually, it is warm, windy, less humid, bit cold in the early mornings.
Occasional rain is expected as the monsoon season is around the corner.
Q: How to reach Ettimadai?
There are two major cities that are close to Ettimadai, Coimbatore and Palakkad (Palghat).
Coimbatore:
By Air: Coimbatore International Airport (CJB) is
the primary airport serving the city of Coimbatore in Tamil Nadu.
The airport is 39 Kilometers away from Ettimadai.
By Train: Coimbatore Junction Railway Station ( CBE )-
is 19 Kilometers away from Ettimadai.
Uber @ Coimbatore
https://www.uber.com/en-IN/cities/coimbatore/
Palakkad:
By Train: Palghat Junction Railway Station (PGT )
(Locally known as Olavakkod Junction),  is 40 Kilometers away from Ettiadai.
Ettimadai
Ettimadai Railway Station (ETMD) is only about 500 meters from the campus
and one may easily walk to campus upon alighting at the station;
however, no major trains stop here and only local passenger trains stop here.
*More Info
Q: What is your medical history?
If you are taking some medications or if you have any physical / psychological problems (eg: fever, asthma, body aches, allergies, blood pressure, diabetes, cholesterol, depression, phobias, fear factor etc.) you must disclose it to the camp authorities during registration. Otherwise it may cause some problems while participating in some of the activities and games. 
There is a clinic in the campus and doctor is available 24 hours on call.
Q: How do I know that my request has been accepted?
Step one. ❗  Fill up the request form and submit with the necessary details.
(which you might have already done) 
Step two. ❗ After your request is received & verified,
a registration form will be sent to you
(pls make sure that you have provided a valid email id)
with a temp. username and password. 
Step three. ❗ Once the registration form is verified,
and the money is received,
a confirmation email will be sent to you with your registration number.
💡 When you come to the camp, come with that registration number.
Q: Whom to contact?
For clarifications pls contact (between 4.30 pm and 8.30 pm)
Smt. Lalita Mani +91-944-237-4789
Smt. Rajathilagam +91-960-064-8032
email: contact@gitamritam.com